Responding to our communities' needs, with high-quality care, compassion, resources and research
[Music]
This is Dr. Monica Peek from the University of Chicago Medicine bringing you a tip on how to protect your health during the COVID-19 pandemic.
What can you use if you don't have a mask? Medical masks are being reserved for frontline healthcare workers. However, a cloth covering for your mouth and nose will also work. You can use a scarf or a bandanna. Try to have at least two layers of woven cloth. Stay safe and be well.
[Music]
PPE Donations
---
UChicago Medicine re-donated personal protective equipment (PPE) and other supplies to community organizations, nursing homes, schools, police stations and the National Guard. Items were received from alumni, corporations, neighbors and University friends.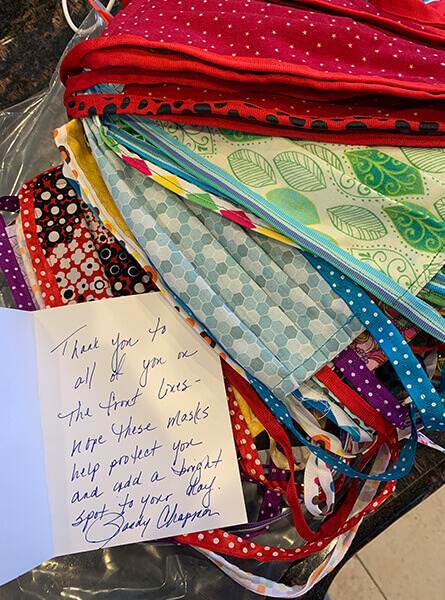 Food Pantry
---
Feed 1st partnered with UChicago Medicine Gardens, Morrison Food Services and UCM's Support Services and Facilities to provide fresh produce to the Feed1st pantry in UChicago Medicine's Sky Café, opened in response to the pandemic.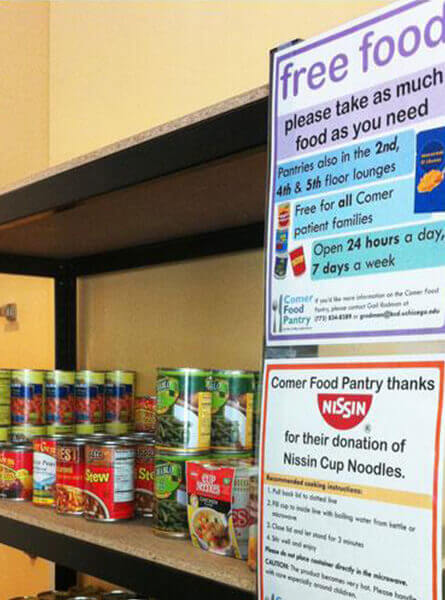 COVID-19 Testing
---
From March 17 through December 2020, more than 259,000 COVID-19 tests were given throughout the UChicago Medicine health system: 221,126 at the Hyde Park medical campus and 37,988 at Ingalls. Of those tests, 57,278 were conducted for community partners (such as federally-qualified healthcare centers (FQHCs), nursing homes and community hospitals).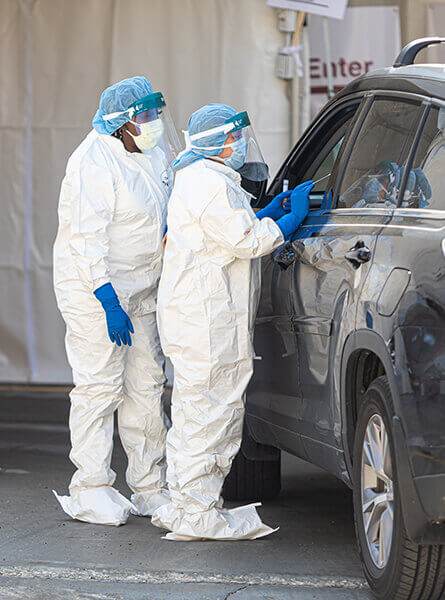 COVID-19 Testing through SSHC
---
Through a grant from United Health Group, UChicago Medicine was able to increase testing at some of our South Side Healthcare Collaborative (SSHC) partner sites. These included St. Bernard Hospital, TCA Health Inc., Christian Community Health Center, Beloved Community Family Wellness Center, Friend Health, Chicago Health Center, and Near North Health Service Corporation.
SSHC increases access to quality healthcare to uninsured, under-resourced and special populations. Between May 8 and December 10, 2020, SSHC partners administered 17,801 COVID-19 tests.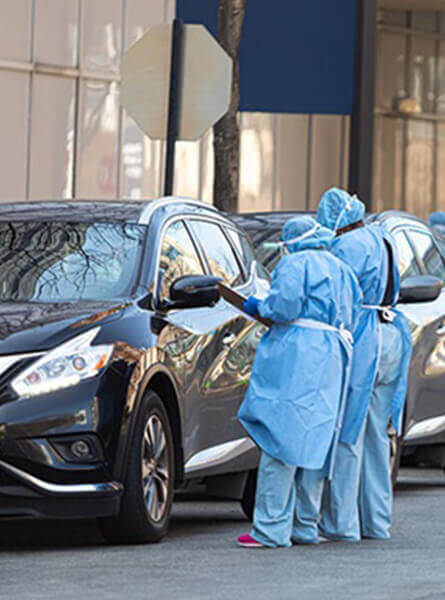 COVID-19 Patient Contact Tracing
---
Through its Urban Health Initiative, UChicago Medicine began a wide-spread patient contact tracing program. Contact tracers interview COVID-19 patients, provide them with education and resources, and gather information about contacts who may have been exposed to the virus.
This work is very important for controlling the spread of infectious diseases like COVID-19. Sixteen UChicago Medicine employees were reassigned or newly hired for contact tracing teams. From August to December 30, 2020, they received 2,154 hours of contact tracing training and completed 1,434 case investigations.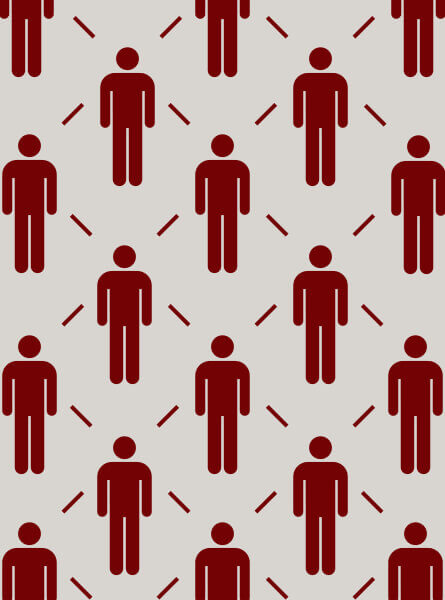 Emergency Relief Funding
---
Each year, hundreds of UChicago Medicine employees and their families gather in the community for the annual Day of Service and Reflection (DOSAR). In 2020, DOSAR changed from an in-person volunteer event and instead provided $10,500 in relief funding to 14 South Side community organizations.
The Urban Health Initiative also provided $75,000 in COVID-19 grant and sponsorship funding to five community organizations. This funding helped organizations continue their very important programming on the South Side during the pandemic.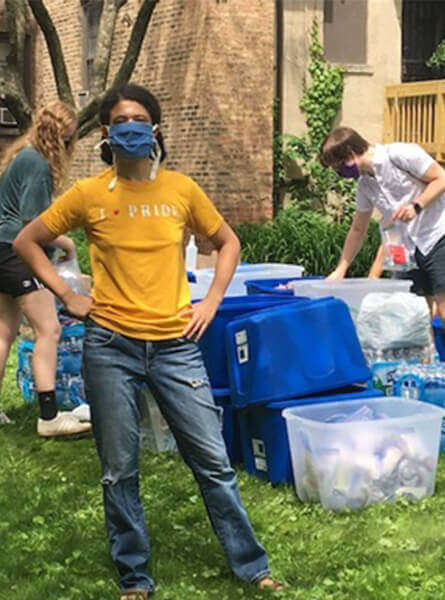 Phase 3 Vaccine Trials
---
From sharing guidance from top infectious disease experts to conducting phase 3 vaccine trials, UChicago Medicine has provided safe, high-quality care and led valuable research in response to the pandemic.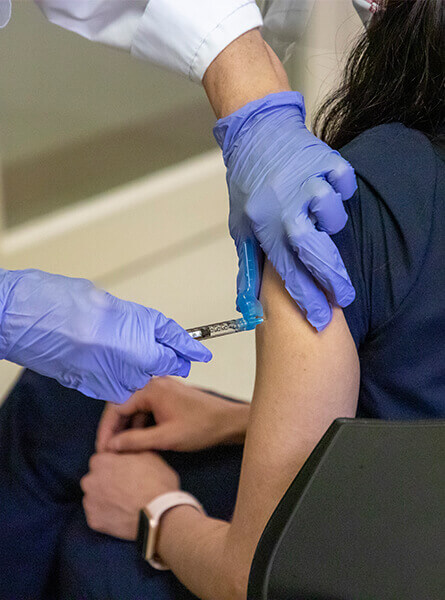 COVID-19 Educational Resources
---
UChicago Medicine provided timely COVID-19 information with weekly community newsletters, Facebook Live events ("At the Forefront Live"), online forums like Community Grand Rounds, WVON-1690 AM's "Community Health Focus Hour," and public service announcements. These were shared with community partners for use in virtual meetings and religious services.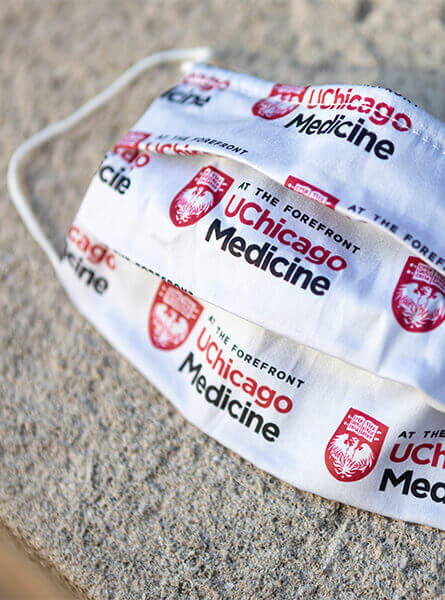 Healthcare Heroes
Together, we can make thousands of differences.
Thank you to our hospital heroes.
Messages of gratitude and encouragement from the public poured in to our heroes on the front lines of the coronavirus health crisis. This included 5,917 emails from community members and a special message from Michelle Obama thanking our healthcare workers.
A message from Michelle Obama
Hi, everybody. It's Michelle Obama, and I just want to take a few minutes to let you all know how profoundly grateful Barack and I are for the heroic work that all of you are doing right now in Chicago.
We know that you all are facing overwhelming challenges.
You're working around the clock, spending long hours away from your families, and making impossible decisions day after day.
You're soothing terrified patients, consoling heartbroken loved ones, summoning every ounce of the compassion and strength that you've got.
And you're saving countless lives while risking your own, and I know that you're exhausted. I know that you must be afraid.
But every single day you all continue to show up and do your jobs with excellence, empathy, and an unwavering devotion to every patient who walks through your doors.
And I'm just in awe of all of you.
You embody the very best of who we are.
The very best, and I know that we will get through this crisis because of you.
So today, I just want to say thank you. From the bottom of my heart, thank you.
I love you all. I am proud of you all.
And I'm praying for every single one of you, for your safety, your health, your strength, and all the days ahead.
Thanks, again. Take care.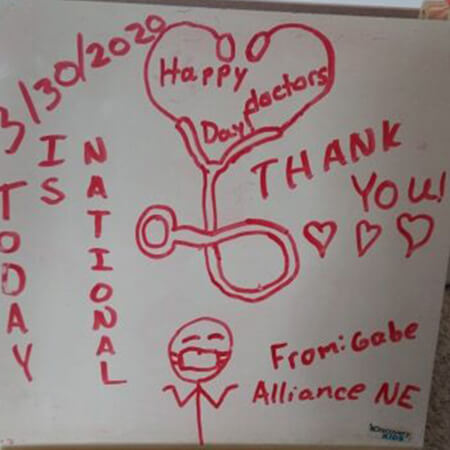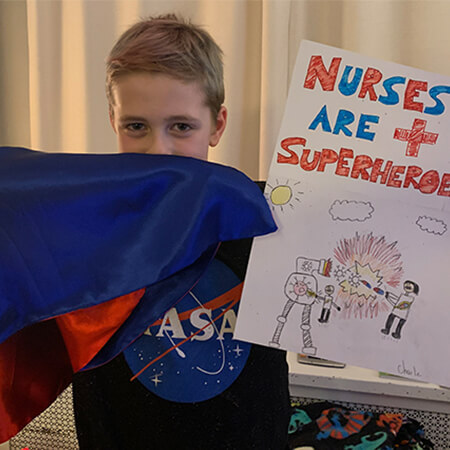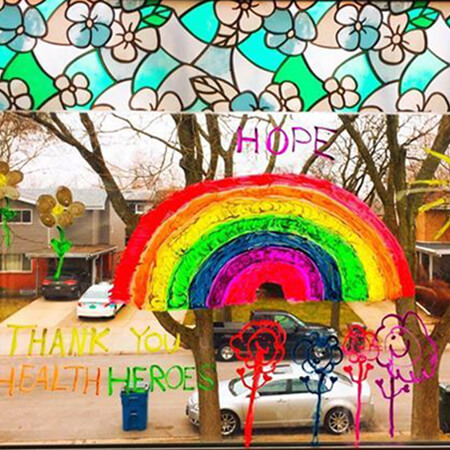 Community Health Workers
Healthcare ambassadors to our South Side neighborhoods
"I love that I can make a difference. Community health workers are essential in producing positive, evidence-based health outcomes. It is truly an honor to represent my community as a community health worker."
Dameka Edwards-Hart, Community Health Worker Supervisor
In 2020, community health workers (CHWs) through the South Side Pediatric Asthma Center, provided asthma education to 279 children and families and more than 830 in-person and virtual visits. CHWs have also connected families to resources that were needed during the pandemic and have provided food, transportation and healthcare supplies to 124 families.
Strengthening care in the community
Community health workers play an important role in providing care and health-related education to patients. This is often done right in patients' homes. Thanks in part to a generous $8 million donation from AbbVie, UChicago Medicine can expand its local team of community health workers with the Liaisons in Care (LinC) Program. This will allow for more holistic, comprehensive healthcare for residents on Chicago's South Side.