Equal Hope: Ending cancer disparities through prevention
Equal Hope's mission is to save women's lives by ending health disparities in Illinois, especially for breast and cervical cancers.
In 2022, UChicago Medicine awarded Equal Hope $50,000 in funding, which was used to hire a full-time community health worker (CHW) focused on cervical cancer prevention and outeach in areas with the highest morbidity and mortality rates. The CHW educates and guides uninsured women on the South Side to free cervical cancer screenings. The project provides care coordination for women by establishing regular care upon the completion of their screening. Equal Hope was able to serve more than 8,000 people in year one of funding.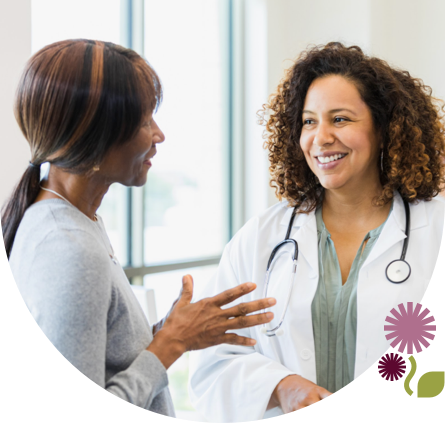 South Side residents are twice as likely to die from cancer than those who live just about anywhere else in America. In fact, cancer is the second-leading cause of death on the South Side.
Improving equity in cancer care
New $815 million cancer center to expand access and treatment options for South Side residents
In February 2022, UChicago Medicine announced plans to build Chicago's first freestanding center dedicated to cancer care and research. The 575,000-square-foot, world-class facility is scheduled to open in 2027. It will provide patients and the South Side community with more access to the newest ways to find and treat cancer.
We worked with South Side residents and community groups to better understand their needs and preferences as we plan for the cancer center.
Our work with the community included two online town hall meetings with more than 100 people taking part, small-group talks and a community survey.
Construction on the new cancer center is set to start in 2023 and will include 500 new construction jobs. At least 41% of contract dollars will go to minority-owned and woman-owned firms.
Connecting the community to cancer treatment, innovations and research
Office of Community Engagement and Cancer Health Equity
The Office of Community Engagement and Cancer Health Equity (OCECHE) partners with community, cultural and religious organizations and healthcare groups. Sharing the most up-to-date education tools developed for culturally diverse populations, OCECHE works to include a larger and more diverse group in cancer research and clinical trials.
In 2020, the office began a Community-Academic Partnership Development and Project Planning Mini-Grant Program as a way to involve community outreach and engagement in each of the four UCCCC cancer research programs: Molecular Mechanisms of Cancer, Immunology and Cancer, Clinical and Experimental Therapeutics, and Cancer Prevention and Control. This was to make sure that research is informed by community needs and priorities, and that the findings and impact of the work are shared with the community.
Now in its third cycle, the mini-grant budget is three times larger and supports community-academic projects up to $10,000. The mini-grants provide resources to support more effective communications with community members and better involve them in the research process.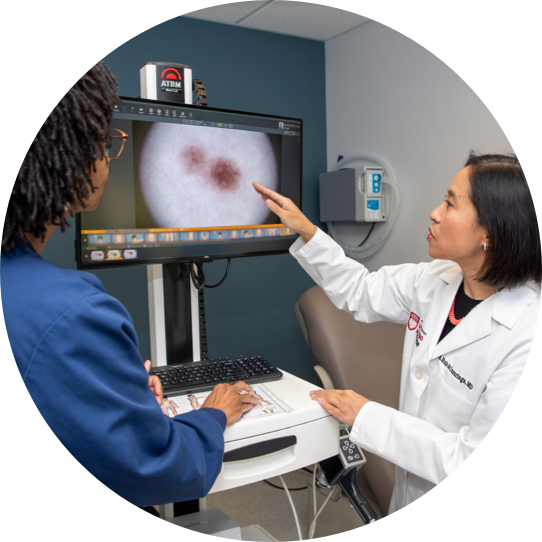 Empowered U
Empowered U is a program funded by the V-Foundation and ESPN. Funding was awarded to UCCCC Community Outreach and Engagement Assistant Director, Nita Karnik Lee, MD, MPH.
The program will work to have more African Americans taking part in clinical trials and will address clinical trial myths vs. facts. Education and outreach will be supported through a multi-media campaign and toolkit that reflects the values, customs, and beliefs of all community members, without judgment or prejudice. The program will also create a community-led group to train clinical research teams on patient experiences and perspectives.
This grant has helped expand the OCECHE Diversity in Clinical Trials workgroup. The workgroup includes OCECHE Community Advisory Board members, cancer survivors, and patient advocates.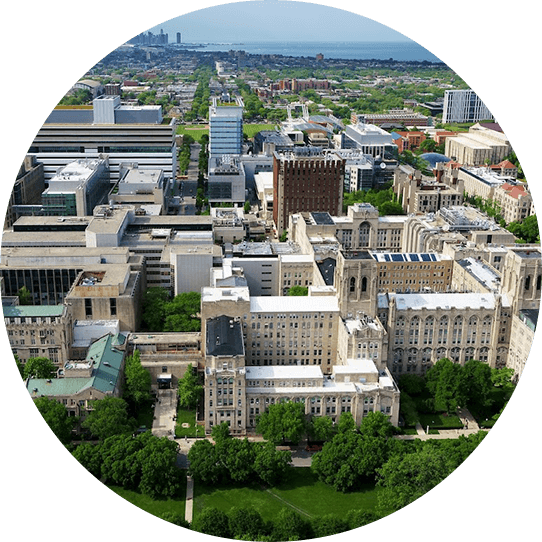 HealthyU
HealthyU is a University of Chicago Medicine Comprehensive Cancer Center (UCCCC) cancer health education program that began for University of Chicago Medicine employees. It was later expanded to include the larger community. HealthyU has two online webinar series: Webinar Wednesdays, focused on clinical cancer topics, and Research Roundup, which covers UChicago cancer research.
The program provides community-focused educational materials, shares resources, works to increase cancer screenings and provides links to care.
This program has hosted over 70 different online webinars with 83 different speakers. Speakers have included University of Chicago faculty, clinical staff, researchers and community leaders. More than 500 people have attended and are taking part in the HealthyU programming.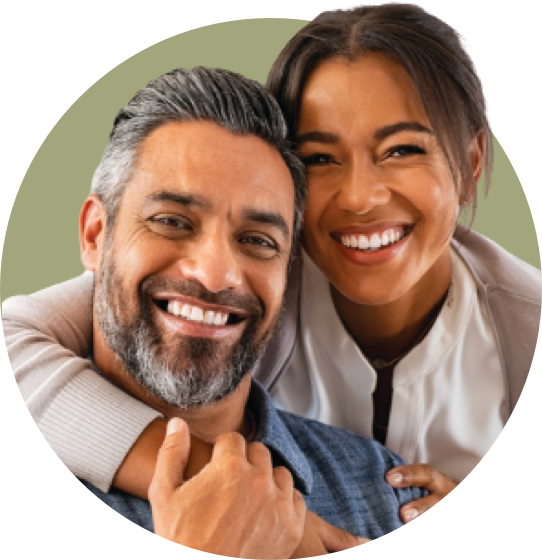 LUCERO
Latinos United for Cancer Education, Research and Outreach (LUCERO) is UCCCC's Latinx cancer control task force. LUCERO was started in 2019 in response to the growing Hispanic population in the UCCCC area. LUCERO's goals are to assess and address the cancer burden and social determinants of health needs among diverse Latinx communities.
This work is done using education with evidence-based screening and prevention, and by sharing research among Hispanic residents. To guide outreach work, LUCERO completed a needs assessment with Chicagoland Latinx communities. Preliminary data from the needs assessment showed the main barriers for screening were lack of insurance, lack of transportation and fear of adverse results.
Clinical trials were seen as helpful but referrals from providers (55%) were larger in number than persons who took part in trials (3%).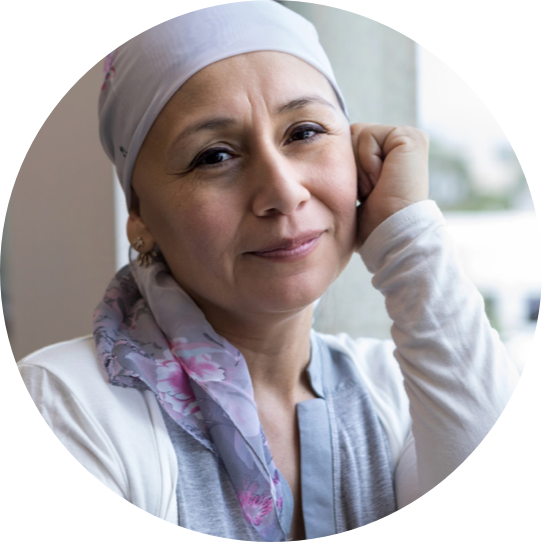 Promoting prevention and screening
With its programs and partnerships, UChicago Medicine supports many cancer screening, prevention and educational initiatives for the communities we serve.
Center for Asian Health Equity (CAHE)
The Center for Asian Health Equity (CAHE) addresses health issues and diverse healthcare needs of immigrants and communities of color. CAHE-UCM takes a multidisciplinary, collaborative approach to addressing gaps in clinical medicine and public health through a comprehensive program for research, health education, training, community engagement, policy, and information dissemination.
CAHE Colorectal Cancer Prevention Programs
Includes three initiatives to increase colorectal cancer awareness, screening, and linkage-to-care among high-risk, high-incidence rate populations in Illinois, including Black, non-Hispanic communities on the South Side of Chicago. In 2021-22, the programs screened 5,432 patients (26% screening rate) and completed 399 colonoscopies (22% completion rate).
CAHE Prostate Cancer Prevention Program
This statewide program works to increase prostate cancer awareness, screening, and linkage-to-care among uninsured and underinsured patients in Black, non-Hispanic and Hispanic communities, including in the South and West neighborhoods of Chicago. In 2021-22, the program held 75 outreach events with 6,824 men participating; 664 men were referred to a health provider for screening and 505 men completed prostate cancer screening.
CAHE Liver Cancer Prevention Program
A statewide, community health driven initiative that leverages partnership with local health departments, health systems, and community-based organizations to provide culturally and linguistically tailored hepatitis-B education, screening, and linkage-to-care among immigrant and perinatal populations, including Asian and African immigrant communities in the Near South and South Side neighborhoods of Chicago. In 2021-22, the program reached 107,098 people, educated 732, and screened 4,306. The program trained 21 community health workers.
No Smoker Left Behind
Offered through the University of Chicago Medicine Comprehensive Cancer Center (UCCCC), No Smoker Left Behind is a program to help cancer patients quit smoking or smoke less. The free program enrolls all cancer patients. The patients take part in a short assessment and learn about low-cost and free treatment options in the hospital and other locations.
Sisters Working It Out
Founded by UChicago Medicine's Monica Peek, MD, MPH, in 2001, Sisters Working It Out (SWIO) works to address barriers contributing to high breast cancer mortality rates for African American women in Chicago.
SWIO, working in partnership with UChicago Medicine's WISDOM Study, helps patients who do not have insurance get mammograms. They also work on research programs with UChicago's Institute for Population and Precision Health. SWIO also works on community outreach with UChicago Medicine Comprehensive Cancer Center's Office of Community Engagement and Cancer Health Equity (OCECHE).