Community Champions: The next generation of healthcare leaders
In early 2021, Pritzker School of Medicine's Department of Graduate Medical Education launched the Community Champions program with the Urban Health Initiative to connect resident physicians with underserved communities on the South Side. That year, the Champions made an impact immediately by helping to vaccinate residents of South Side communities against COVID-19.
In 2022, the Community Champions class more than doubled their numbers from 33 to 78 members. Community Champions are now taking part in community events, promoting disease prevention and sharing educational information on a variety of health topics. The Community Champions have engaged in 193 hours of service for South Side communities.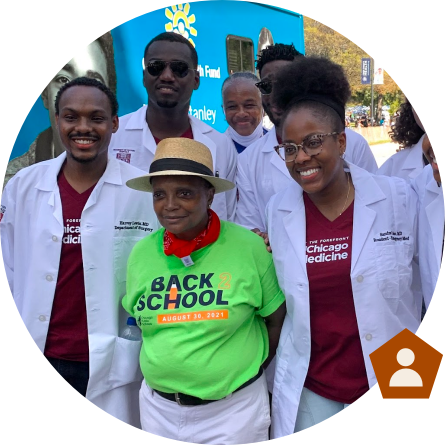 Through community workshops, conferences, communications, festivals and events, and more, UChicago Medicine researchers and experts can directly share health information and guidance with the community.

These events also provide a chance for them to listen to and learn from residents about their needs, concerns and ideas for improving community health.
Volunteer Services
Making a difference through community outreach
UChicago Medicine depends on its volunteers to support events and programs and to distribute valuable health information throughout the community. We are grateful for their contributions, service hours, and generosity – all of which make a lasting impact.
For example, the Adopt-A-Family program provides gifts and needed basic items to UChicago Medicine Comer Children's Hospital families during the holidays.
The Department of Social Work works together with Volunteer Services to nominate eligible families and assign family wish lists to hospital departments. With their time and generous financial donations, UChicago Medicine employees were able to help 34 families in FY 2022.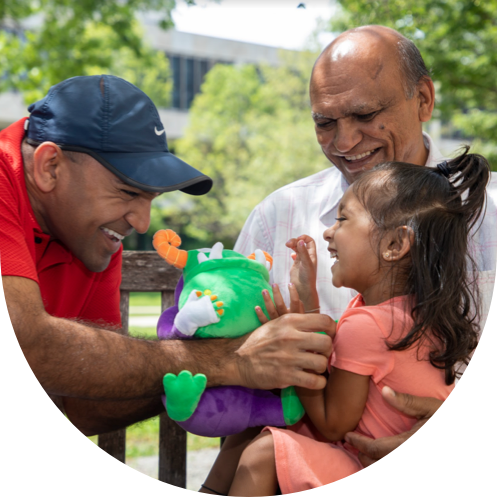 Community Advisory Council
Guiding programs and partnerships towards improved health equity
Many of UChicago Medicine's community health programs are guided by Community Advisory Councils (CAC) at both the Hyde Park medical center campus and at UChicago Medicine Ingalls Memorial. The CACs are led by a group of volunteer members who live or work in UChicago Medicine's service areas.
The CAC groups are advisors to UChicago Medicine on issues of interest to the community and are essential partners in achieving UChicago Medicine's community benefit investment, access to care expansion, community engagement and health equity goals.
Community Advisory Councils,
FY

2022
Candace Henley
Advocating for cancer prevention and community health
Candace Henley is a leading voice for health equity in underserved communities. She is the founder of the Blue Hat Foundation and an integral member of our Community Advisory Council.
Candace has also been instrumental in raising awareness and encouraging community involvement in planning for UChicago Medicine's new cancer center, set to open in 2027. Read about Candace and what inspires her advocacy and commitment to improving community health.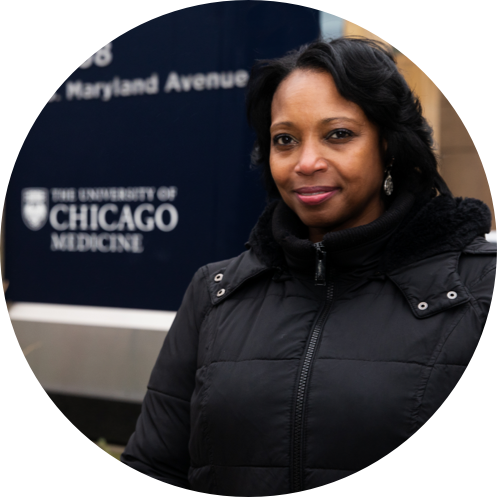 UChicago Medicine in the community
UChicago Medicine organized or took part in 78 community events in

FY

2022.
In 2022, UChicago Medicine celebrated the 20th anniversary of the Day of Service and Reflection (DOSAR). To learn more, see the video here.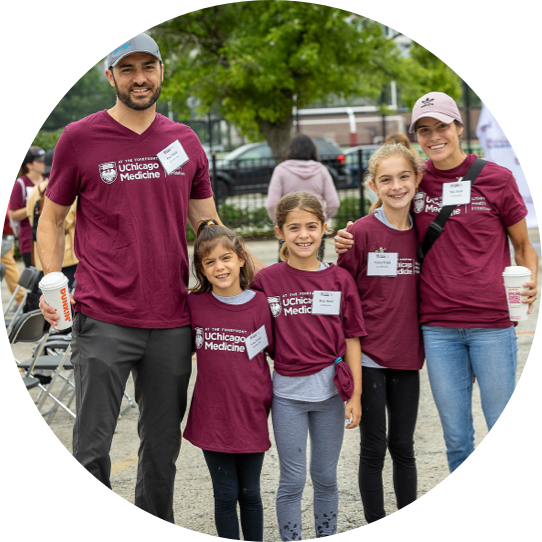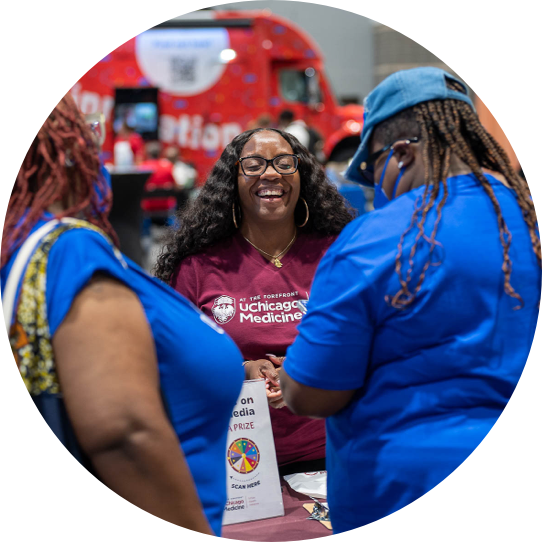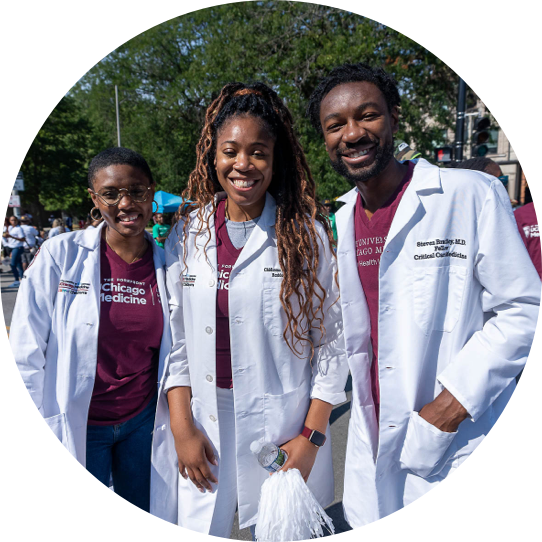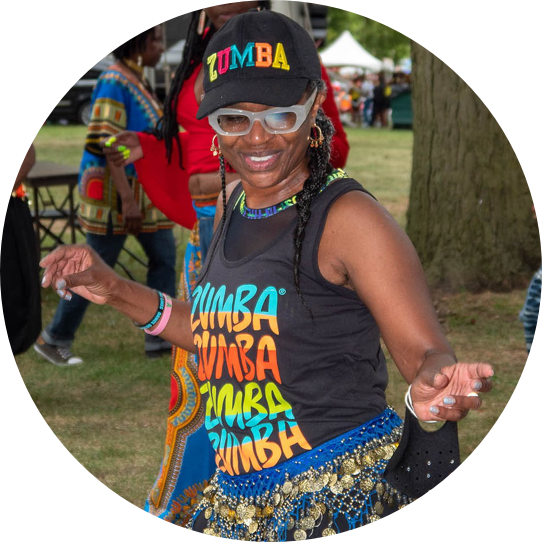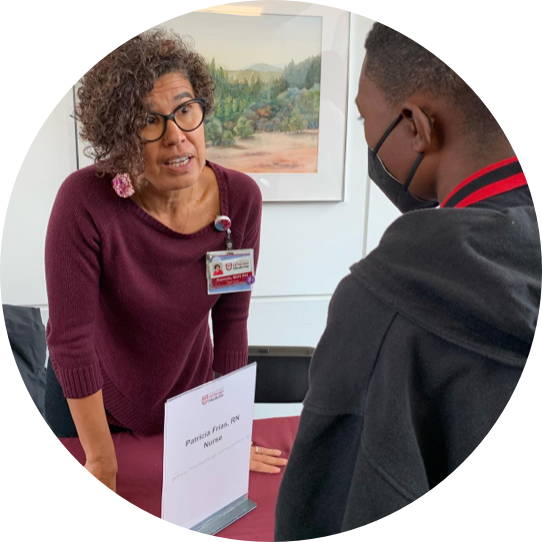 Community Communications
Informing, engaging and educating on key health topics
UChicago Medicine and community partners regularly share important information including healthcare resources for the communities we serve on the South Side.
Here is how we communicate with the community:
WVON Radio 1690 AM - Community Health Focus Hour
Completing its 13th season in 2022, this weekly radio broadcast covers health issues important to South Side residents. In 2022, WVON produced 43 shows, with over 12,000 Facebook viewers.
Also completing its 13th season in 2022, this education series is hosted by UChicago Medicine's Center for Community Health and Vitality, with support from the University of Chicago's Institute for Translational Medicine and the Urban Health Initiative.
The online events often feature UChicago Medicine experts who share information and research on leading community health issues. In 2022, CGR hosted seven events, with more than 360 people taking part.
Urban Health Initiative's Community Health Updates Newsletter
This weekly online newsletter began during the pandemic to connect community members to vital resources, information and events. Topics now cover a wider range of health topics. The newsletter published 52 editions in FY 2022. Regular social media postings help us stay connected, expand UChicago Medicine's reach, share health resources and foster discussion with the broader community about various health topics.
At the Forefront Live
This video broadcast series delivers medical information and health guidance directly from UChicago Medicine researchers and medical professionals. In FY 2022, At the Forefront Live shared 18 broadcasts on Facebook and YouTube.