Museum of Science and Industry: Combating chronic disease one step at a time
The rate of diabetes is 30% higher for our South Side service area compared to the rest of Chicago. Being active can help control blood sugar levels, which helps manage diabetes. With exercise and health education, UChicago Medicine's Community Fitness Program helps people with chronic illnesses including diabetes. For nearly 30 years, the program has been hosted at the Museum of Science and Industry, at no cost to community members. In FY 2022, exercise classes were held virtually with 2,847 in attendance.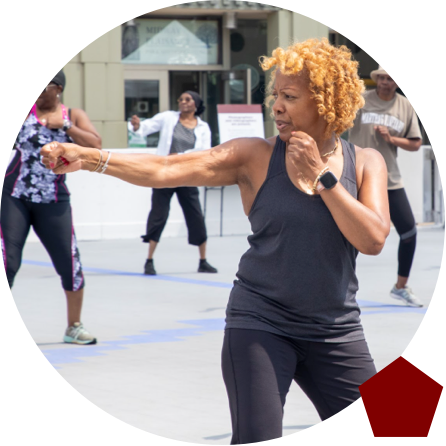 Maintaining healthy lives and fighting chronic diseases
The University of Chicago Medical Center offers health-focused community programs, events and information
South Side Pediatric Asthma Center
1,401 community members took part in community events
383 Community Health Worker home visits were conducted to help patients manage asthma
105 community members attended asthma trainings
79 people attended the online Asthma Education Summit
Community Fitness Program
2,847 total attendance in

FY

2022
143 fitness classes
Health and Wellness Workshops
833 attendees
37 workshops
Urban Health Initiative Community Health Newsletter
119 newsletters as of June 28, 2022
11,800 people subscribed to newsletter
ECHO-Chicago
An innovative model to help community providers diagnose, treat and manage complex medical conditions
ECHO-Chicago is an innovative workforce development model that has expanded primary care capacity in under-resourced communities since it started in 2010. Using Zoom, ECHO-Chicago brings together community-based providers and subject matter experts for curriculum-driven, care-based learning. Together they share practical knowledge on implementing evidence-based best practices through "virtual rounding" and "tele-mentoring" that is designed to help healthcare providers navigate real-world challenges in providing care.
ECHO-Chicago's programming has covered more than 30 content areas, including adolescent health, behavioral health integration, childhood adversity and trauma, complex diabetes, COVID-19, geriatrics, hepatitis C, opioid use disorder, pediatric ADHD, resistant hypertension, serious mental illness and women's health.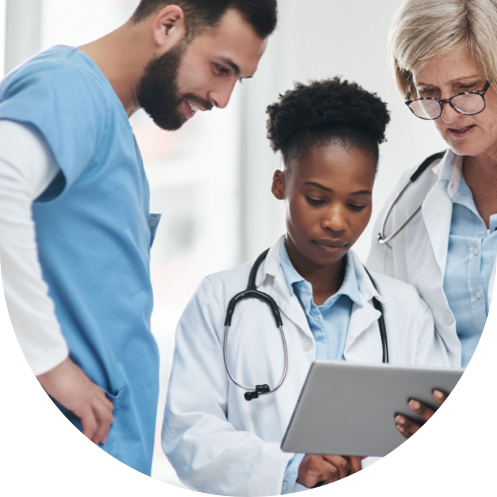 Diabetes Empowerment Education Program (DEEP™)
Diabetes Empowerment Education Program (DEEP™) is a diabetes self-management curriculum that has proven successful in helping participants take control of their disease and reduce risk of complications. UChicago Medicine's Community Relations team members conduct these peer education sessions for community members. In FY 2022, the team hosted seven DEEP™ sessions attended by 160 people.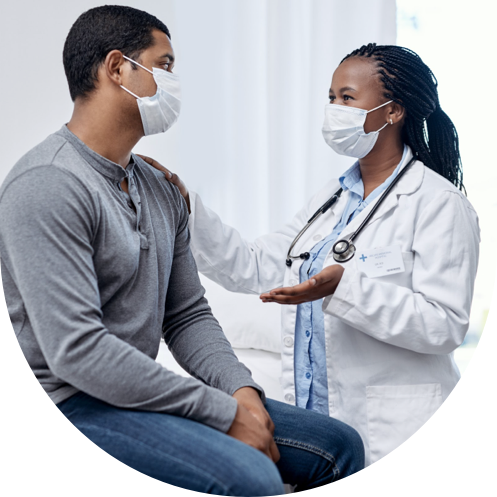 Community Health Workers
Supporting patients with chronic disease, in their homes and communities
Community Health Workers (CHWs) are community members trained to work with patients and their families. Taking into account social determinants of health, CHWs provide case management and resource referrals, offer healthcare support at home, help lessen barriers to care and work with the patient to improve overall health and wellness.
The Liaisons in Care (LinC) program's CHWs support patients with heart failure, adolescent sickle cell disease, stroke, seizure disorders, pediatric asthma, hypertension, diabetes, cancer, and maternal child health. In FY 2022, there were a total of 4,055 patient encounters performed by a CHW in-person, by phone or virtually.
Meeting people where they are
South Side Chicago Street Medicine (CSM)
South Side Chicago Street Medicine (CSM) at the University of Chicago is a group of volunteer medical students, social work students, and physicians who provide resources, medical care, and social services to people experiencing unhoused homelessness on the South Side of Chicago. With flexible hours and volunteers who travel to patients, CSM's goal is to provide care for people on their terms. This allows patients to receive healthcare even when food, work, and a safe place to sleep take priority over their health. Through nearly 800 patient encounters a year, CSM shares not just diagnoses and medications, but also warm food and socks, connection and conversation.